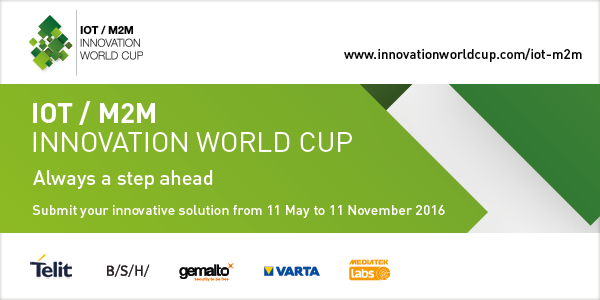 The IOT / M2M Innovation World Cup 2016/17 has started into its 5th round!
Take your chance and submit your creative solution
The IOT / M2M Innovation World Cup with its sponsors Telit Wireless Solutions, MediaTek Labs, VARTA Microbattery, and Gemalto is the leading IOT / M2M innovation competition worldwide. Last year almost 400 solutions from 70 countries were submitted – and a panel of experts faced the tough task to select the best out of many great solutions who then became last years category winners or even innovator of the year.
The IOT / M2M Innovation World Cup was kicked-off for the 5th time in Milan, Italy, on the 11th of May at the IOT / M2M Innovation World Cup 2016/17 | Kick-Off, held during the M2M Forum and Disruptive Week Milan. From now until the 11th of November, you have the chance to submit your innovative solution for free in the area of Internet of Things and Machine-to-Machine Communications. By doing this you are in the running to be selected as a finalist of the Innovation World Cup with the opportunity to present your innovative idea at the award ceremony next year in front of our sponsors, partners and a broad public of experts!
Become innovator of the year and accelerate your business with the help of our Innovation World Cup network. Get in contact with our platinum, gold and silver partners and gain the attention of our regional and media partners. On top, take advantage of free development kits from our partners Telit, Gemalto and BSH (Bosch Group) (see here for more details).
Submissions can be made in the categories "Smart City", "Automotive", "Industrial", "Smart Building and Home Automation", "Healthcare", "Transport & Logistics & Surveillance" and a special "Security Award" powered by gemalto. Take your chance, apply and with some luck, make it into the final round. Gain international awareness for you innovative solution, immensely expand your network, profit from extensive promotion and many other benefits provided by our prominent sponsors and partners!
You can also join us at various events during the submission phase. These events include:
June 10, Innovation World Cup Conference PARIS @ Future en Seine Festival
June 12-13, WT | Wearable Technologies Conference 2016 | USA (San Francisco)
Sept. 21, Innovation World Cup Conference 2016 | NEUCHÂTEL
Oct. 12, WT | Wearable Technologies Conference 2016 | ASIA (Hong Kong)
---
Review of the IOT / M2M Innovation World Cup 2015/16
The Award Ceremony in Barcelona on the 24th of February 2016 was a great success. Out of almost 400 submissions only 25 companies were selected as IOT Heroes 2016. Almost all finalists came to Barcelona to present their solutions in the categories Connected Home, Smart City, Mobility, Security, and Healthcare.
The best of the best in Internet of Things were announced right after the elevator pitches: MYXYTY, EverCharge, Kizy Tracking, Swissprime Technologies, and Quanticare Technologies.
The trophies were handed over by the representatives of the IOT / M2M Innovation World Cup sponsors: Gerhard Schedler from Swisscom, Joe Braga from Telit, Marc Naddell from MediaTek Labs, Matthias Dorsch from VARTA Microbattery and Alex Hansmann from Gemalto.
Learn more about all IOT Heroes 2016 here.
---
Review of IOT / M2M Innovation World Cup 2014/15
All submitted solutions were judged and reviewed by an international team of experts against a set of criteria including degree of innovation, business potential and go-to-market approach. The finalists and winners were announced at the Mobile World Congress, hosted by title sponsor Ericsson, on March 3rd, 2015 in Barcelona.
Learn more about the winners and IoT Innovators of the Year 2015 at the Hall of Fame.
The official award ceremony and announcement of the overall winner took place at SWISSCOM M2M Day in Zurich, on March 12th, 2015.
The IOT / M2M Innovation World Cup took off the 20th of May 2014 at the annual M2M Forum in Milan. Having attracted the interest of developers worldwide, the IOT / M2M Innovation World Cup closed its database the 15th of November 2014 with impressive solutions. We would like to extend our sincerest thanks to all of the participants as well as to our partners for their involvement.
IOT / M2M Innovation World Cup 2014/15 – Award Movie
Award Ceremony Swisscom M2M Day Zurich