IOT / M2M Innovation World Cup Categories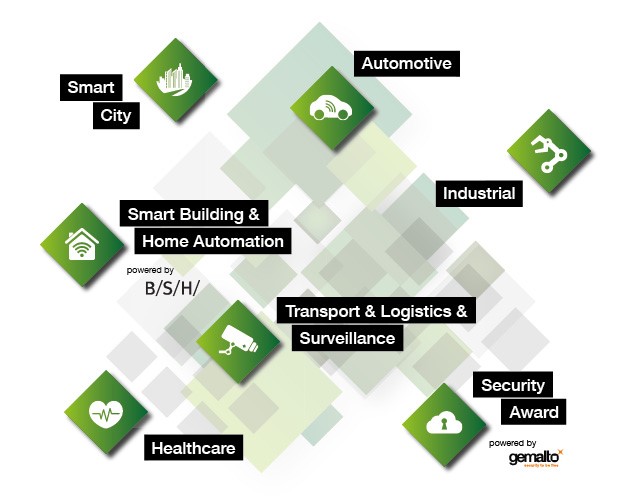 Smart City
Smart City embraces ICT solutions for the management of public affairs aiming to boost performance and comfort, reduce cost as well as the city´s resources consumption, and finally to be involved more effectively and actively with its residents. By implementing IoT into urban infrastructures, a wide range of benefits in the management and optimization of public services such as the structural health of buildings, waste management, air quality, traffic management and smart parking, energy consumption and smart lighting, can be reached. Be a part of the change and submit your breakthrough solution for smarter cities.
Automotive
The car is one of the most sophisticated mobile devices in the Internet of Things (IoT). Linked to the cloud by way of wireless technologies, smart chips, onboard computers and mobile apps, connected vehicles are driving new business models and disrupting old ones. Automakers have already made 4G wireless connectivity available in some new cars, and the combination of Wi-Fi and IoT technology paves the way for many services for drivers and passengers alike, such as enhanced navigation, real-time traffic and parking information, streaming infotainment and integration between dashboards, smartphones and wearable devices, and connecting the smart home with the car. Submit your innovative connected car or automated driving solution, or your new mobility services here.
Smart Building & Home Automation powered by B/S/H/
Buildings and homes are about to become more and more smart – whether it´s the thermostat, lighting, hi-fi system, washing machine or your door lock: they all communicate wireless with each other at home, via smartphone, tablet, smartwatch or even with your car. Smart Buildings helps to make the homes more comfortable, more secured and more economical to run. Thus, smart buildings and homes become an increasing market booster for consumer electronics, telecommunications, and the construction industry. Shape the promising future of reliable IoT/M2M solutions for connected buildings and homes and submit your solution now! And find out more about the BSH Home Connect Program for developers https://developer.home-connect.com/ to generate innovative ideas to drive new eco-systems in the kitchen environment.
Industrial
As IoT and M2M technologies are embedded into materials, parts and the machines building these, each "thing" has its own digital information now. Big data analysis and high speed communication will become more crucial than ever for evaluating the increasing amount of data. Companies have the possibility to become more efficient. Production can be further automated and this paves the way for self-optimization, self-configuration, self-diagnosis of machines, parts and material. Submit your solution and be part of the change, helping smart manufacturing to become even smarter.
Transport & Logistics & Surveillance
New technologies are transforming logistics and transportation processes with major implications for industry players and consumers alike. Whether it´s a logistics solutions connecting companies with their containers or trucks for easier and safer cross-border
trading, or navigation applications, tracking your objects live via GPS. New vehicle-to-mobile connections, vehicle-to-vehicle and vehicle-to-infrastructure connections revolutionize the infrastructure sector. Let´s find new ideas for these industries.
Healthcare
The Internet of Things and M2M communications play an important role in a wide range of healthcare applications, making possible not only to monitor the patient´s health but also to send the collected data to the physician´s, hospital`s and/or the family´s devices instantly. The demand for new and improved remote health and monitoring systems as well as the need to monitor and share fitness data is growing rapidly. Be part of the IoT / M2M healthcare revolution and present us your innovative solution.
Security Award powered by gemalto
In the Internet of Things era security is a very challenging issue. Security solutions have to protect each and every asset, transaction, data access and API to guarantee data integrity and trust across the IoT environment. Additionally, a lot of security application fields can be addressed by Internet of Things / M2M solutions. From the surveillance of buildings, cars and public transportation to monitoring workers in risky environments, or early warning systems for earthquakes – IOT / M2M solutions provide the opportunity to improve security systems.