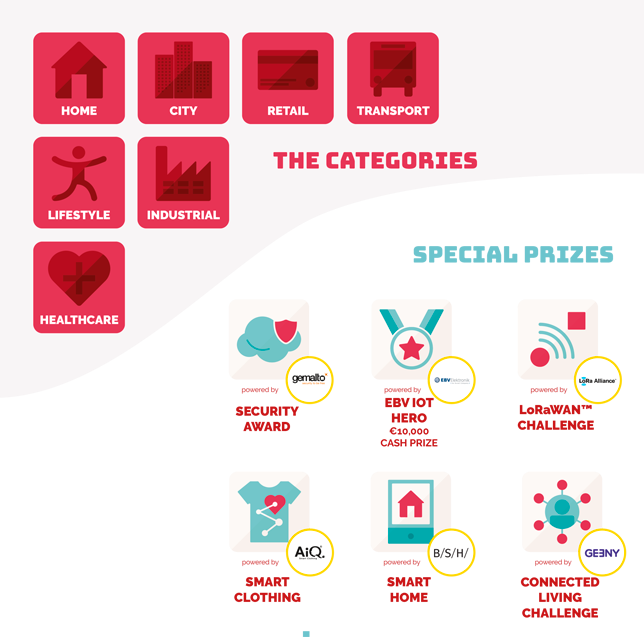 Home
Homes are getting smarter every day as more of our household items become connected devices. Whether it is the thermostat, lighting, hi-fi system, washing machine or your door lock – they all communicate wirelessly with each other and with you. These devices not only increase convenience, but they also help make homes more comfortable, more secure and more economical. Thus, smart homes are boosting the market for consumer electronics, telecommunications, and construction industries. Be a part of shaping the future of reliable IoT/WT solutions for smart homes by submitting your solution now!
City
The City category embraces all Smart City ICT solutions. From the management of public affairs that aim to boost performance, comfort, and to reduce cost to tackling  resource consumption. Smart cities also aim to be more effectively and actively involved with its residents. By implementing IoT into urban infrastructures, a wide range of benefits in the management and optimization of public services can be gained. Examples of such benefits are the structural health of buildings, waste management, air quality, traffic management, smart parking, energy consumption and smart lighting. Be a part of the change and submit your breakthrough solution to make cities smarter.
Lifestyle
Connected devices are drastically changing our lifestyle. We are now able to track our own performance metrics conveniently via our smart phones with the help of wearable sensors. This also extends to gaming, where sophisticated wearable technologies are unobtrusively integrated into user-friendly devices. For instance, smart glasses, smart watches, smart clothing and smart jewelry all collect information without having to pull out your smartphone! Thanks to gaming experiences, the user can better engage with their environment and enabling people to interact with what matters to them. Though gaming and fitness devices are not the only things that are increasingly influencing our lifestyle, but also connected devices for music, travel and tourism experiences. Submit your solution and be part of the change, helping lifestyle to become funnier!
Industrial
As IoT and M2M technologies are embedded into materials and mechanical parts, we are able to gather more and more data from these sensors during their use. Big data analysis and high speed communication will become more crucial than ever for evaluating performance metrics. Companies can then to use this technology to become more efficient – including further automation, self-optimization, self-configuration, and self-diagnosis of the machines, parts and material. Submit your solution and be part of the change, helping smart manufacturing to become even smarter.
Transportation
The transportation category spans across both personal and commercial transportation solutions including: connected cars; smart sea, land and air transportation solutions; as well as commercial logistics operations. The car is one of the most sophisticated mobile devices in the Internet of Things (IoT). Linked to the cloud by way of wireless technologies, smart chips, onboard computers and mobile apps, connected vehicles are driving new business models and disrupting old ones. The combination of Wi-Fi and IoT technology paves the way for many services for drivers and passengers alike, such as enhanced navigation, real-time traffic and parking information, streaming infotainment and integration between dashboards, smartphones and wearable devices, and connecting the smart home with the car.
New technologies are also transforming the logistics and transportation processes with major implications for industry players and consumers alike. Whether it is a logistics solution connecting companies with their containers or trucks for easier and safer cross-border trading, or navigation applications, tracking your objects live via GPS. New vehicle-to-mobile connections, vehicle-to-vehicle and vehicle-to-infrastructure connections revolutionize the infrastructure sector.
Healthcare
The Internet of Things communication plays an important role in a wide range of healthcare applications, making possible not only to monitor the patient's health but also to instantly send data to devices owned by physicians, hospitals and/or the family. The demand for new and improved remote health and monitoring systems as well as the need to monitor and share health and wellness data is growing rapidly. Be part of the IoT healthcare revolution and submit your innovative solution.
Retail
Cross-channel is becoming the rule in retail. Consumers not only want to buy their clothes in shops, but also online. Innovation in retail is about finding unique ways to enhance the shopper's experience from start to finish and to increase the retailer's customer engagement. Augmented reality is being increasingly adopted, allowing shoppers to experience products anywhere, anytime in a fun and interactive way. Robots or chatbots with Artificial Intelligence are becoming more popular and are booming in the B2C industries. Be a part of changing the face of the retail experience by submitting your game-changing solution now!
Special Prizes

Techpreneurs from all around Europe are invited to become the EBV IoT Hero. This special prize of the Innovation World Cup® is powered by EBV Elektronik the leading specialist in EMEA semiconductor distribution. EBV enables European techpreneurs to bring their solutions to market successfully. Contestants of the Innovation World Cup® can order three development kits for free and can access EBV´s StartmeUp team, a sales division dedicated to start up companies and electronic newcomers, including engineering, sourcing, and logistics support.
The EBV IoT Hero will have the opportunity to win a cash prize of 10,000 Euro. 
Free EBV development kits: www.innovationworldcup.com/iot-wt/software-development-kits

Low Power Wide Area Network (LPWAN) technology is one of the fastest growing connectivity segments. With decreased power requirements, longer range and lower cost than a standard cellular network, LPWANs are set to enable the much wider range of M2M and Internet of Things (IoT) applications that  have been previously constrained either by cost, range or battery life.  With the open LoRaWAN Global Standard there is also an open business model, removing yet another barrier to large scale IoT deployments. The LoRaWAN™ Challenge, a special prize of the IOT/WT Innovation World Cup®, gives participants an opportunity to LoRaWAN enable/develop solutions and the opportunity to fast track the success of their solutions together with LoRa Alliance™. In addition to the competition prizes worth over $500,000, the winner will receive a number of benefits from including:
Transport and Accommodation to the Pitch & Award Ceremony for two people
Free Adopter Membership of the LoRa Alliance for one year to become part of our over 450 member ecosystem spanning the entire end to end value chain.
Free Key Sponsorship Place at the Open Market Place at a relevant LoRa Alliance All Members Meeting and Open House of the Winners Choice
Key Company Highlight in a LoRa Alliance newsletter and on the LoRa Alliance Website
A Joint Press Release with the LoRa Alliance on the winning solution distributed via the LoRa Alliance Media Channels.
Innovate and enter the LoRaWAN™ Challenge now – see what you can achieve

There will be 14 billion consumer IoT devices in use by 2020, yet a hyper-efficient IoT future, where our clothes coach us and adjust our workouts and diets accordingly, is still miles away. Smart things fail to speak the same language, which is preventing mass adoption from taking off. People are not able to explore new uses for their devices because they are stuck in closed ecosystems or limited to a single smart device. Not able to create smart connections between their lifestyle, home or fitness IoT devices, they cannot gain insights beyond a simple measurement of burned calories or number of steps taken.
Help us disrupt consumer IoT and show us how you can use the Geeny IoT platform to build the next big thing. In addition to speeding up the development process, the Geeny IoT platform provides a connection between B2C companies, developers, makers, and smart users. Using Geeny, end-users can access and combine data from multiple connected devices to gain better insights and real automation. Using Geeny marketplace, they can discover new, powered-by Geeny things and applications.
You as a developer can tap into data streams from countless connected devices in one place and build IoT products and services faster according to the tangible consumer needs. Get access to business insights on device usage trends and plan your next hardware update properly. Focus on your project without having to worry about infrastructure, data processing, GDPR-compliant data security and user authentication.
Enter the Connected Living Challenge and benefit from:
Mentoring and support to work with Chinese manufacturers and project management for E2E projects
Help creating apps on the Geeny platform
Project feature in the European Startup section of the Geeny marketplace

The IoT is dramatically changing our working and living landscape, with billions of things talking to each other, it is opening new business opportunities and the promise of a better-connected world. From building surveillance, connected cars or smart cities to monitoring workers in risky environments, the IoT has a lot to offer.
Gaining and retaining consumer trust in data exchange and privacy is essential for the IoT to reach its potential. IoT Security is a crucial challenge and IoT players need to ensure an end-to-end secure IoT ecosystem that everyone can trust in. Security solutions have to protect each and every asset, transaction, data access and API to guarantee data integrity and trust.
Security-by-design should be a given to protect devices´ data from the core to the edge of IoT applications. Building security into products, from the ground up, ensures devices are shielded from cyber attacks while providing a root of trust for remote security lifecycle management.
Participate in our Security Award challenge and impress us with your IoT designs!
To learn more about IoT Security, check Gemalto dedicated webpages. Also check our extensive developer community and prototyping boards to help your IoT developments!

Consumers use more and more wearable technologies in their everyday life. Smartphones and social media have been seamlessly integrated. Smart clothing is the next step into the future with endless possibilities to integrate technology into clothing. One day everybody will wear clothing that is networked in a subtle and intelligent way, but most wearable technologies are still too chunky to be worn on the body like a second skin.
AiQ Smart Clothing is a key player in this field and has partnered with the Innovation World Cup® Series to look for a cutting-edge innovation. This includes completely new textile solutions, including fabric, garment engineering, as well as technologies or power systems that can be integrated into an existing piece of clothing.
Winner of the Smart Clothing challenge by AiQ Smart Clothing will be supported in transforming their prototype to mass production and aiming at high volumes.

Buildings and homes are about to become more and more smart – whether it´s the thermostat, lighting, hi-fi system, washing machine or your door lock: they all communicate wirelessly with each other at home, via smartphone, tablet, smartwatch or even with your car. Smart Buildings help make homes more comfortable, more secure and more economical to run. Thus, smart buildings and homes become an increasing market booster for consumer electronics, telecommunications, and the construction industry. Shape the promising future of reliable IoT solutions for connected buildings and homes and submit your solution now!
Find out more about the BSH Home Connect Program for developers to generate innovative ideas that will drive new eco-systems in the kitchen environment.