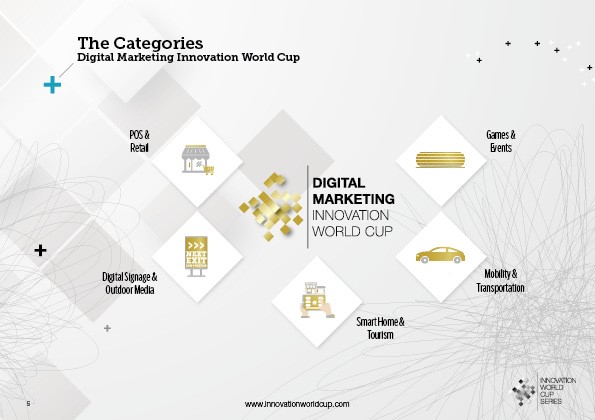 POS & Retail
Point of Sale and Retail is a category dedicated to new and innovative ways businesses can interact with the customer. Online retail is not the only way to engage the new generation of shoppers – we are seeing new technologies emerging within traditional brick-and-mortar shops as well. Likewise, predominantly online retailers such as Amazon are beginning to engage consumers in real life showing that the best way to interact with the customer is by using cross-channel methods. Innovation in retail is about finding unique ways to enhance the shopper's experience from start to finish and to increase the retailer's customer engagement. Augmented reality is also being increasingly adopted, allowing shoppers to experience products anywhere, anytime and in a fun and interactive way. Robots or chatbots with Artificial Intelligence are other customer engagement tools that are becoming more popular and are booming in the B2C industries. Are you innovating within the POS & retail space? Enter now for your chance to showcase your innovation at the world's biggest digital marketing exposition, dmexco!
Games & Events
The gamification of everyday activities enables users to engage with their environment and important objects in a fun and interactive way. To make the digital marketing process more entertaining, games can be used to not only draw attention to products but also enable users to experience it in a unique way. Virtual/Augmented reality is also a tool that is being increasingly used to influence the user's opinion of a product. Mobile applications such as Pokemon Go open up a world of new possibilities toward gamification. Be a part of changing the face of the digital marketing in Games & Event by submitting your solution now!
Digital Signage & Outdoor Media
Even outside shops and malls, you can find digital interfaces interacting with you – from buses and cars to restaurants and museums, you are shown your next dream holiday or your favorite pair of jeans. Digital marketing solutions as content management, create non-obtrusive ways to inform the customer. Personalized experiences are created to lighten the burden of infobesity and increase relevancy for the individual. Text, image, video, interactive screens, context-Aware Digital Signage, chatbots, Artificial Intelligence software, holographic displays (and your innovative solution?) will change the ways brands will talk to their customers outside the stores and homes. Be a part of shaping the future of digital marketing solutions for Digital Signage & Outdoor Media by submitting your solution now!
Smart Home & Tourism
The Internet of Things is already making its way into your home with products from Smart Thermostats to connected kitchen appliances. Each of these smart objects represents an opportunity for companies to wirelessly communicate with their customers. The opportunities for digital marketing in the home environment are increasing! Getting home after 9pm? Perhaps your smart fridge can help with your healthy eating goals by informing you about the best products for your lifestyle.
Tourism also offers excellent opportunities to reach the end consumer. Smart objects in accommodation or your rental car could inform you about the best attractions in the area according to the local weather and availability. Digital marketing at home and on the go, will help everyone experience non-intrusive and personalized marketing, saving time as our lives continue to increase in pace. Be a part of shaping the future of Digital Marketing solutions for smart homes and tourism by submitting your solution now!
Mobility & Transportation
The transportation and mobility category includes services related to delivery, connected cars and logistic solutions. Delivery is a key factor to customer satisfaction in the growing e-commerce industry. Making the delivery process faster, easier and reliable is important for the retailers and for the customers. Delivery solutions goes from apps that can help you order anything from your smartphone to drones and bikes that will deliver your packets where you actually are as UBER Eat plans to do.
Innovative digital marketing solutions are also transforming the logistics and transportation processes. For instance, logistic solution connecting customers to their delivery tracking your objects live via GPS. Finally, many digital interfaces into individual cars, public transportations and trucks can be used to promote digital marketing services such as streaming infotainment, enhanced navigation, real-time traffic and parking information.
Mobility concerns the idea to promote innovative ways to move around the city. Mobility is becoming part of the shared economy, shifting away from the individual car model to the use of car sharing or autonomous vehicles. Digital marketing services can promote car sharing services, help drivers find and pay for parking, and get directions. Enter your transportation or mobility solution to the Digital Marketing Innovation World Cup now.