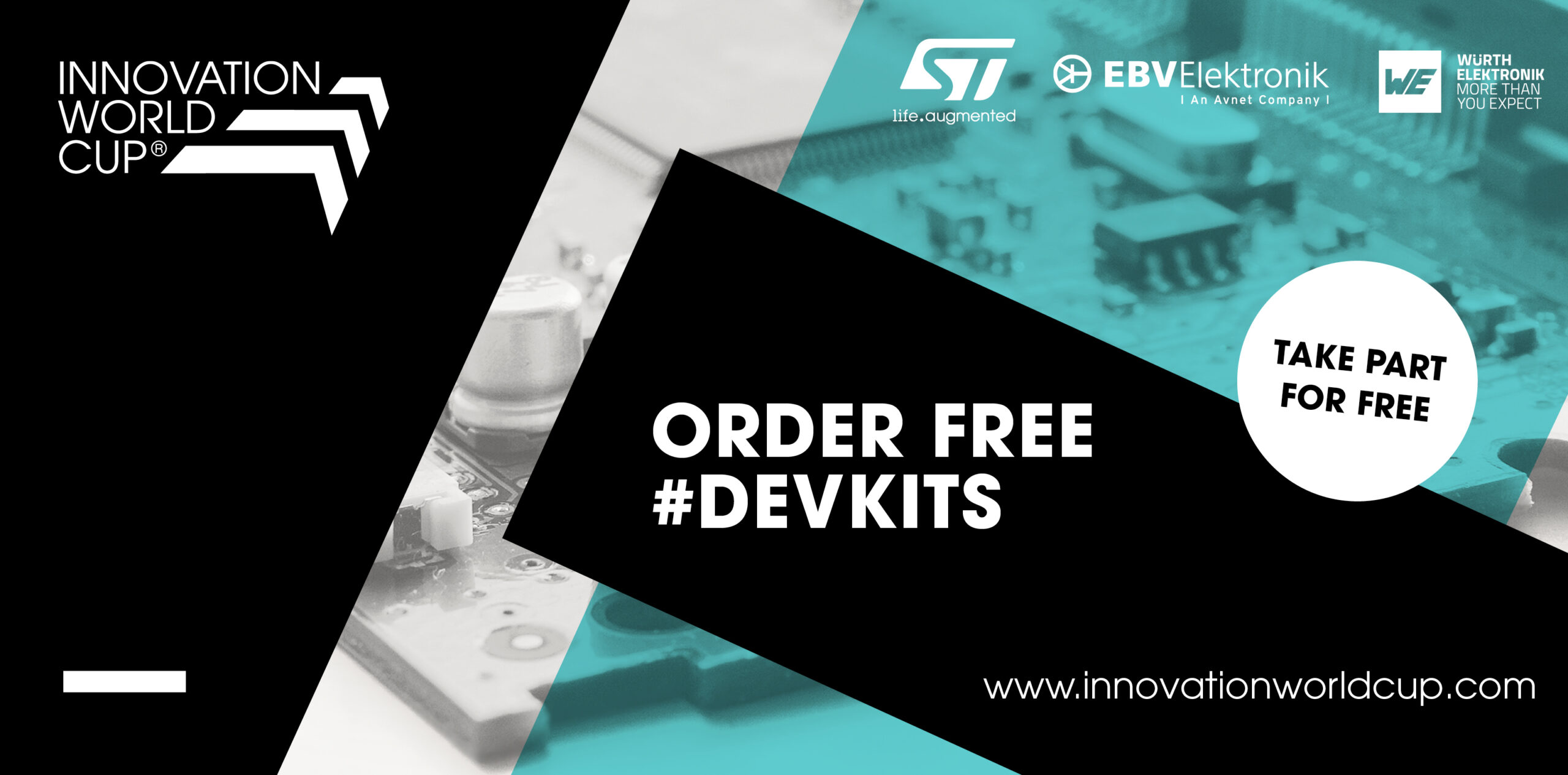 The Innovation World Cup® partners provide their development kits to participants of the Innovation World Cup®!
How to get them? Submit your solution for the 15th Innovation World Cup® or the 15th Healthcare Innovation World Cup® free of charge. Fill in the submission form and you will have the unique opportunity to order one of the software development kits provided by the Innovation World Cup® partners STMicroelectronics and Würth Elektronik.
All "required" questions must be answered to enable the online devkit request function.
Below you will find a description of the development kits:

---
STMicroeletronics Development Kit
The SensorTile.box (STEVAL-MKSBOX1V1) is a ready-to-use box kit with wireless IoT and wearable sensor platform to help use and develop apps based on remote motion and environmental sensor data, regardless of levels of expertise. The SensorTile.box board fits into a small plastic box with a long-life rechargeable battery. The ST BLE Sensor app on smartphone connects via Bluetooth to the board and allows developers to immediately begin using a wide range of default IoT and wearable sensor applications.
The STWIN SensorTile wireless industrial node (STEVAL-STWINKT1) is a development kit and reference design that simplifies prototyping and testing of advanced industrial IoT applications such as condition monitoring and predictive maintenance.The kit features a core system board with a range of embedded industrial-grade sensors and an ultra-low-power microcontroller for vibration analysis of 9-DoF motion sensing data across a wide range of vibration frequencies, including very high frequency audio and ultrasound spectra, and high precision local temperature and environmental monitoring.The development kit is complemented with a rich set of software packages and optimized firmware libraries, as well as a cloud dashboard application, all provided to help speed up design cycles for end-to-end solutions.The kit supports BLE wireless connectivity through an on-board module, and Wi-Fi connectivity through a special plugin expansion board (STEVAL-STWINWFV1). Wired connectivity is also supported via an on-board RS485 transceiver. The core system board also includes an STMod+ connector for compatible, low cost, small form factor daughter boards associated with the STM32 family, such as the LTE Cell pack.Apart from the core system board, the kit is provided complete with a 480 mAh Li-Po battery, an STLINK-V3MINI debugger and a plastic box.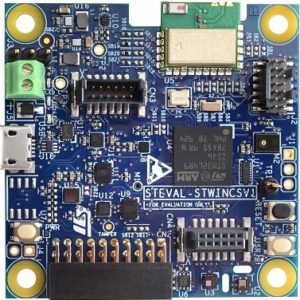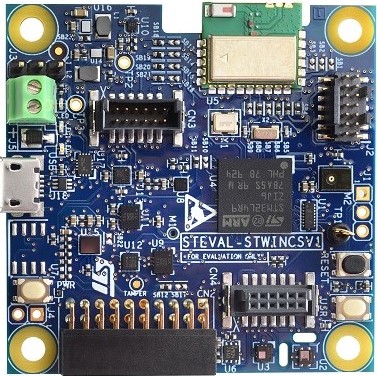 The STEVAL-STWINWFV1 expansion board adds 2.4 GHz Wi-Fi connectivity to the SensorTile Wireless Industrial Node (STWIN) kit (STEVAL-STWINKT1).Application examples that take advantage of this expansion board can be found in STSW-STWINKT01 firmware package as well as in the FP-IND-PREDMNT1 Predictive Maintenance Function Pack.

Get more information at:
---
Würth Elektronik Development Kits
The Horticulture LEDs is the new 2 in 1 Lighting Development Kit provides an easy solution to either mix RGBW color for different lighting situations or amplify the growth of plants with the horticulture panel.

With MagI3C Power Module 172 946 001
Intensity of each channel can be adjusted individually (dimming 0 – 100%)
APP "WEilluminate" to perform dimming
PWM dimming method – controlled by PIC16F1527 microcontroller. Dimming profiles and colors can be stored
Horticulture LED panel for plant grow with Deep Blue, Hyper Red, Far Red and White and up to 30umol/s output
Conducted and radiated EMI compliant (EN55015)
Good thermal behavior


The WE FeatherWing development boards are open source and fully compatible with the Feather form factor. Through these development boards Würth Elektronik eiSos brings a range of wireless connectivity modules, sensors and power modules to the Feather ecosystem. FeatherWings are stacking boards and add functionality and room for prototyping. It is a complete ecosystem of products – and the best way to get your project flying.
The WE Sensor Shield for Arduino is a stackable expansion board for Arduino UNO and Arduino DUE. It features I2C and SPI interface with 3.3 V and 5 V logic output. Compatible with 6-pin connector of Würth EVAL boards. Plug-and-play with sensor EVAL boards (WSEN-EVAL). Works with every other sensor with I²C or SPI interface. Arduino library and example code for quick start.

---
Join the 15th  Innovation World Cup® or 15th Healthcare Innovation World Cup®  free of charge and request your favorite devkit. Chances to win prizes worth +500.000 USD, present your business at the world's leading tech events and build successful partnerships with international tech corporations are just a few clicks away!