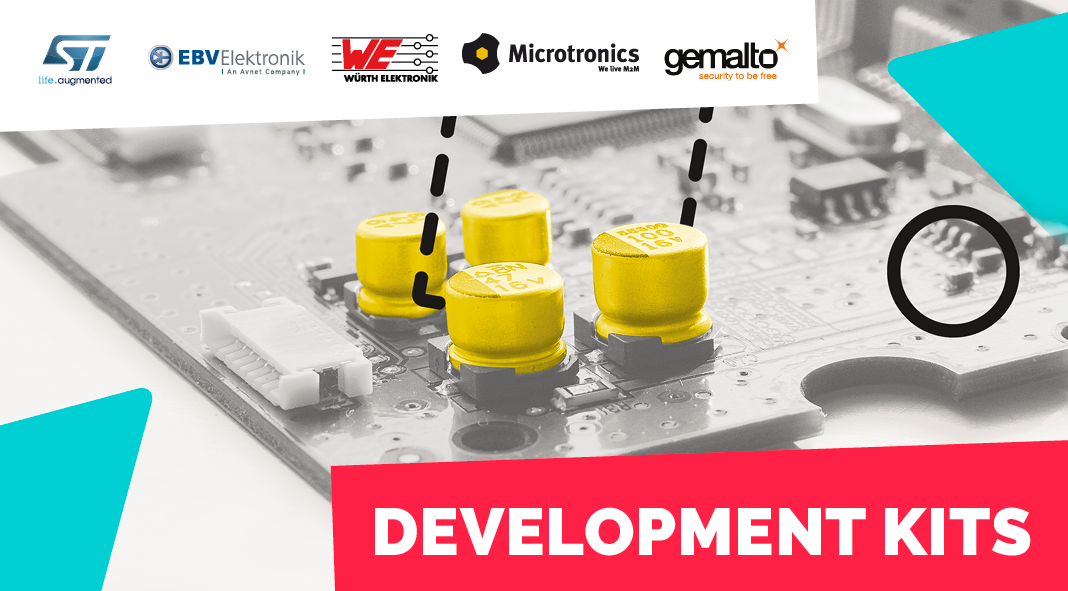 Develop the future now! Innovation World Cup® partners provide their development kits to participants of the IoT / WT Innovation World Cup®.
How to get them? Submit your solution for the 12th IOT/WT Innovation World Cup® FREE OF CHARGE. Fill in the submission form with all the required details. You will have the unique opportunity to order one of the software development kits provided by the Innovation World Cup® partners STMicroelectronics, EBV Elektronik, Würth Elektronik, and Microtronics directly via the submission form!

Below you will find a description of the development kits including links to the websites of the different partners.
---
Microtronics Development Kit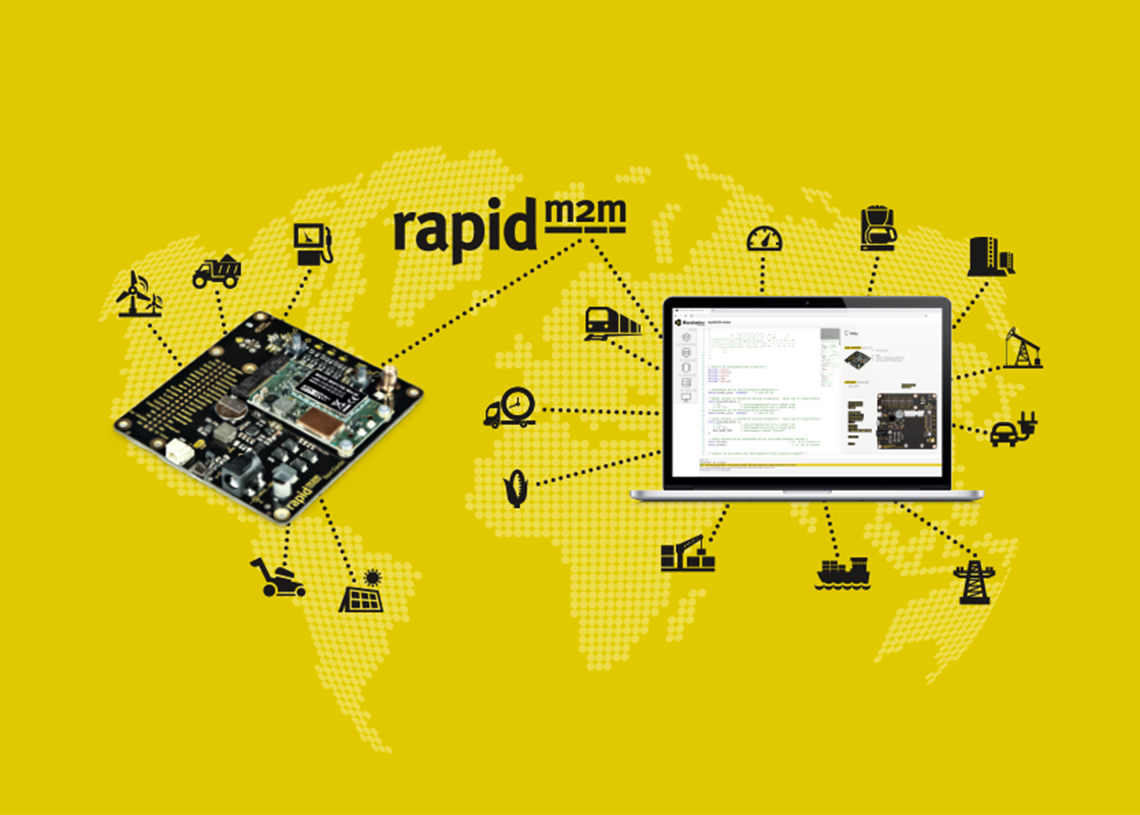 Selected contestants of the rapidM2M Challenge will have the chance to use the state-of-art rapidM2M Base Starter development board!
The rapidM2M Base Starter is a complete package for embedded developers, as well as machine and device manufacturers. It enables the easy creation and testing of M2M/IoT applications for data recording and control. The core element of the package is the intelligent rapidM2M M22x WIFI/3G EU module that can be programmed by the user. The communication module is particularly suitable for applications where energy consumption is the main focus. A variety of microcontroller interfaces as well as different sensors are available to record data. The connectivity (Wi-Fi, 2G/3G) to the central server is fully managed. The rapidM2M M22x WIFI/3G EU is fitted with the rapidM2M runtime environment ex-works and is fully functional.
---
STMicroelectronics is making the STM32 Open Development Environment available to participants for free. For more information please refer to: www.st.com/stm32ode.
The STEVAL-STLKT01V1 is a comprehensive development kit designed to support and expand the capabilities of the SensorTile and comes with a set of cradle boards enabling hardware scalability. The SensorTile is a tiny, square-shaped IoT module that packs powerful processing capabilities leveraging an 80 MHz STM32L476JGY microcontroller and Bluetooth low energy connectivity based on BlueNRG-MS network processor as well as a wide spectrum of motion and environmental MEMS sensors, including a digital microphone. The development kit simplifies prototyping, evaluation and development of innovative solutions
NUCLEO-F401RE – STM Nucleo development board for High-Performance F4 Series with STM32-F401RET6 MCU, supports Arduino (100 SDKs for free) and NUCLEO-L053R8 – Nucleo development board for STM32 Low Power L0 series – with SMT32L053R8, supports Arduino (100 SDKs for free)

STM32 Nucleo boards provide an affordable and flexible way for users to try out new ideas and build prototypes with any STM32 microcontroller line, choosing from the various combinations of performance, power consumption and features. The Arduino™ connectivity support and ST Morpho headers make it easy to expand the functionality of the STM32 Nucleo open development platform with a wide choice of specialized expansion boards. The STM32 Nucleo boards do not require any separate probe as they integrate the ST-LINK/V2-1 debugger/programmer. The STM32 Nucleo boards come with the STM32 comprehensive software HAL library together with various packaged software examples.
X-NUCLEO-IDB04A1 – Bluetooth low energy expansion board based on BlueNRG for STM32 Nucleo (100 SDKs for free)

The X-NUCLEO-IDB04A1 is a Bluetooth low energy evaluation board to allow expansion of the STM32 Nucleo boards. It is compatible with the Arduino UNO R3 connector layout, and is designed around BlueNRG, a Bluetooth low energy, low power network coprocessor compliant with BTLE 4.0 and the BALF-NRG-01D3, an ultra miniature balun optimized for ST BlueNRG RFIC, which integrates matching network and harmonics filter. The X-NUCLEO-IDB04A1 interfaces with the STM32 MCU via SPI pin, and the user can change the default SPI clock, the SPI chip select and SPI IRQ by changing one resistor on the evaluation board.
X-NUCLEO-IKS01A1 – Motion MEMS and environmental sensor expansion board for STM32 Nucleo (100 SDKs for free)

The X-NUCLEO-IKS01A1 is a MEMS inertial and environmental sensor evaluation board system. It is compatible with the Arduino UNO R3 connector layout, and is designed around STMicroelectronics' LSM6DS0 3-axis accelerometer + 3-axis gyroscope, the LIS3MDL 3-axis magnetometer, the HTS221 humidity sensor and the LPS25H pressure sensor. The X-NUCLEO-IKS01A1 interfaces with the STM32 microcontroller via the I2C pin, and it is possible to change the default I2C port.
X-NUCLEO-NFC01A1 – Dynamic NFC tag expansion board based on M24SR for STM32 Nucleo (100 SDKs for free)

The X-NUCLEO-NFC01A1 is a Dynamic NFC tag evaluation board to allow expansion of the STM32 Nucleo boards. It is compatible with the Arduino UNO R3 connector layout and it is designed around the M24SR64-Y. The M24SR64-Y device is a dynamic NFC/RFID tag IC with a dual interface. It embeds a 64 Kbit EEPROM memory. It can be operated from an I2C interface or by a 13.56 MHz RFID reader or a NFC phone. The board is powered through the Arduino UNO R3 connectors. It also includes three LEDs for general purpose.
X-NUCLEO-IDW01M1 – Wi-Fi expansion board based on SWPF01SA module for STM32 Nucleo (100 SDKs for free)
The X-NUCLEO-IDW01M1 is a Wi-Fi evaluation board based on the SPWF01SA module, which expands the STM32 Nucleo boards. The CE, IC and FCC certified SPWF01SA module has an embedded STM32 MCU, a low-power Wi-Fi b/g/n SoC with integrated power amplifier and power management and an SMD antenna. The SPWF01SA module is also equipped with 1 MByte of external FLASH for firmware update over-the-air (FOTA). The firmware features a complete software IP stack to open up to 8 TCP/UDP sockets, as well as dynamic web pages with SSI to interact with the module and a REST API (get & post) for conveniently transferring files to/from servers in the cloud. The module can simultaneously behave as a socket server and socket client. The firmware supports secure sockets with TLS/SSL encryption, ensuring secure end-to-end communications with the cloud, with or without authentication
The STM32 Open Development Environment is built on the following software tools:
STM32Cube software. A set of free of charge tools and embedded software bricks to enable fast and easy development on the STM32, including a Hardware Abstraction Layer, middleware and the STM32CubeMX PC-based configurator and code generator
STM32Cube expansion software. Expansion software provided free of charge for use with STM32 Nucleo expansion boards, and compatible with STM32Cube software framework
The STM32 Open Development Environment is compatible with a number of IDEs including IAR EWARM, Keil MDK, mbed and GCC-based environments.
Get more information at www.st.com/stm32ode.
---
EBV Elektronik Development Kit
European participants only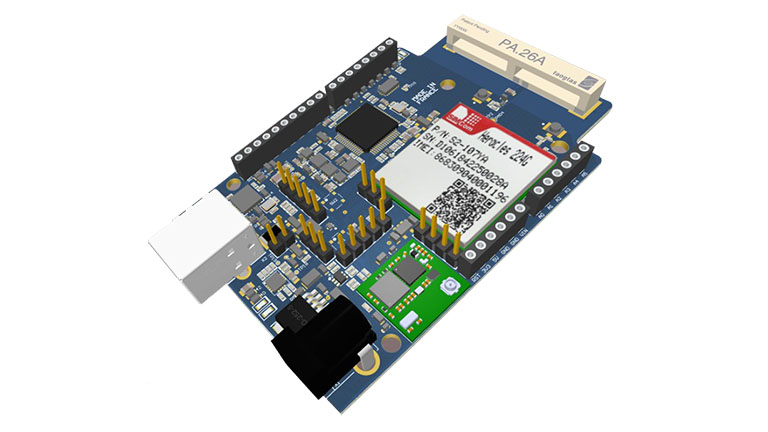 HERACLES 224G is an all in one solution, real direct IoT and plug and play. It combines low power, low throughput LTE modem, a GPRS/EDGE modem, a global satellite localization system and a pre-paid data package with a European footprint.
Its development kit, the HERACLESUINO 224G enables the design of a connected application in a few steps.
It includes all the necessary features of most of mobile and non-mobile IoT applications. It can be operated from a Lithium- Ionbattery, a DC power supply or a USB source.
The application runs from a low power STM32 microcontroller. It incorporates a variety of usual sensors needed for a wide range of application such as temperature, hydrometer, accelerometers,
gyroscopes, ambient light, pressure and magnetometers sensors.
---
Würth Elektronik Development Kit
The AMBER PI Design Kit by Würth Elektronik eiSos is a plug-in board for the Raspberry Pi 3B, which equips the Raspberry Pi with the sub 1 GHz interface from Würth Elektronik eiSos. The integrated sensors (temperature, humidity, air pressure, and movement) as well as the supplied radio stick, which acts as a counterpart to the AMBER PIs, allow the user to develop a variety of creative applications based on the Raspberry Pis.
Find out more details here.
---
Join the 12th IoT/WT Innovation World Cup® FREE OF CHARGE and secure your dream devkit until September 23, 2020 (23:59 PST). Chances to win prizes worth +500.000 USD, present your business at the world's leading tech events and build a successful partnership with international tech corporations are just in a few clicks!