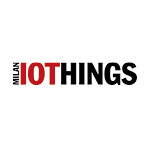 IOTHINGS comes from the experience gained through the M2M FORUM, the first-ever international M2M+IoT Conference & Expo.
M2M forum was launched in 2002 by Innovability and in 15 editions has brought together European players in the Machine-to-Machine and Internet of Things space.
The event features not only an expo and conferences, but also business meetings and networking. The target audience is B2B only and includes C-levels from end-user companies, public utilities, public administration and carriers. It is the only event where a conference session will discuss the new born Chief IoT Officer role.
Co-located events with IOTHINGS: EMBEDDED IOT and IOENERGY. Since 2011 IOENERGY has featured broad and integrated contents on the technology usage for the Internet of Energy field. Also, participants have the opportunity to take part in the second year of the IoT Valley Tour to discover the region's excellences.