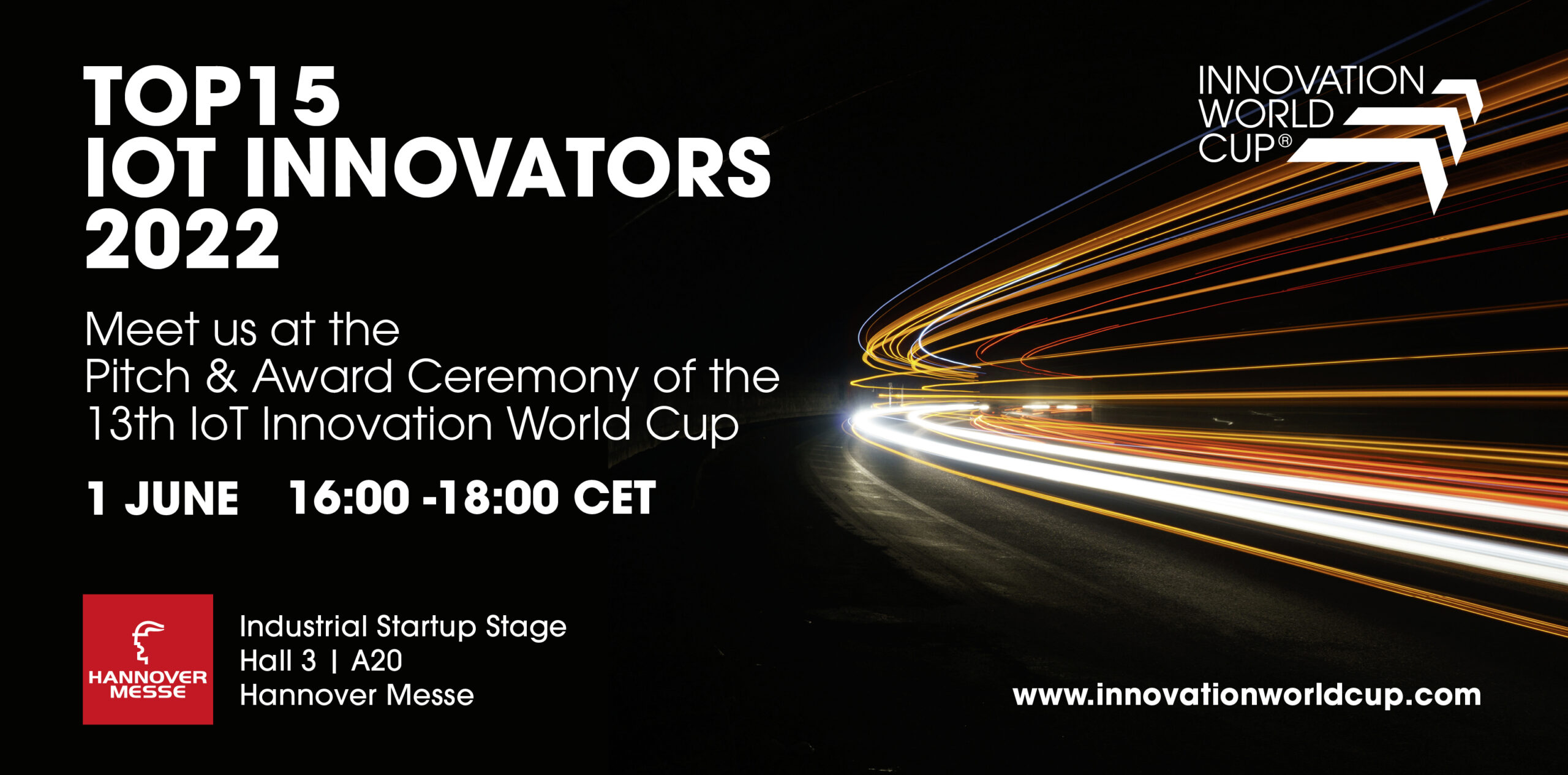 13th IoT/WT Innovation World Cup® Finals at HANNOVER MESSE
Meet the Top15 IoT Techpreneurs 2022 in the finals of the 13th IoT/WT Innovation World Cup®️  at HANNOVER MESSE on 1 June, 16:00 – 18:00 CET!
Check out ground-breaking IoT solutions, exchange and experience disruptive IoT technologies that advance us in the future!
The submission round of the 13th IoT/WT Innovation World Cup® was a blast! +400 submissions from +65 nations applied their solutions that shake the future of the Industry 4.0, Energy & Safety, City and Agriculture sectors. The Top15 IoT Innovators 2022 will present in the official pitch and award ceremony at HANOVER MESSE, the most important industrial trade-fair and largest stage for the future of the Internet of Things.
Industrial IoT:
Altered Carbon (UK) – Intelligent digitization of scent
GreaseBoss (Australia) – Digital transformation of greasing industrial equipment
Ladon Energy (Germany) – Ladon energy box
Ligna Energy (Sweden) – Ligna S-Power
Smartex.ai (Portugal) – Automated system for defect prevention & waste reduction in textiles
XELA Robotics (Japan) – Providing the human sense of touch to robots
Energy & Safety:
Passive Eye (UK) – Passive Eye self-sustaining monitor
PEEK (Germany) – A new and innovative way to protect power grid workers on the field
Serinus Labs (US) – Early warning sensors for lithium-ion battery safety
City:
CrowdScan (Belgium) – The future of crowd analytics
Energiot (Spain) – Global battery-free IoT network for a smarter grid
Vourity (Sweden) – Vourity embedded payments
Agriculture:
FELCO (Switzerland) – Digivitis: A solution for precision viticulture
NAUST Robotics (Denmark) – Upgrading agriculture with autonomous drones
Soil Scout (Finland) – Wireless soil condition sensor
The Top15 IoT Innovators 2022 will pitch their solutions live in front of the expert jury. Evaluation criteria include the degree of innovation, go-to-market approach, commercial potential and sustainability. The prestigious awards will be handled to the category winners, the winners of the ST Industrial Innovation Challenge powered by STMicroelectronics and EBV Innovation Hero powered by EBV Elektronik.
Having missed the submission deadline? Apply now for the 14th IoT/WT Innovation World Cup®️ 2022/2023 and take chances to shine bright at HANNOVER MESSE 2023.

Participation is free of charge.