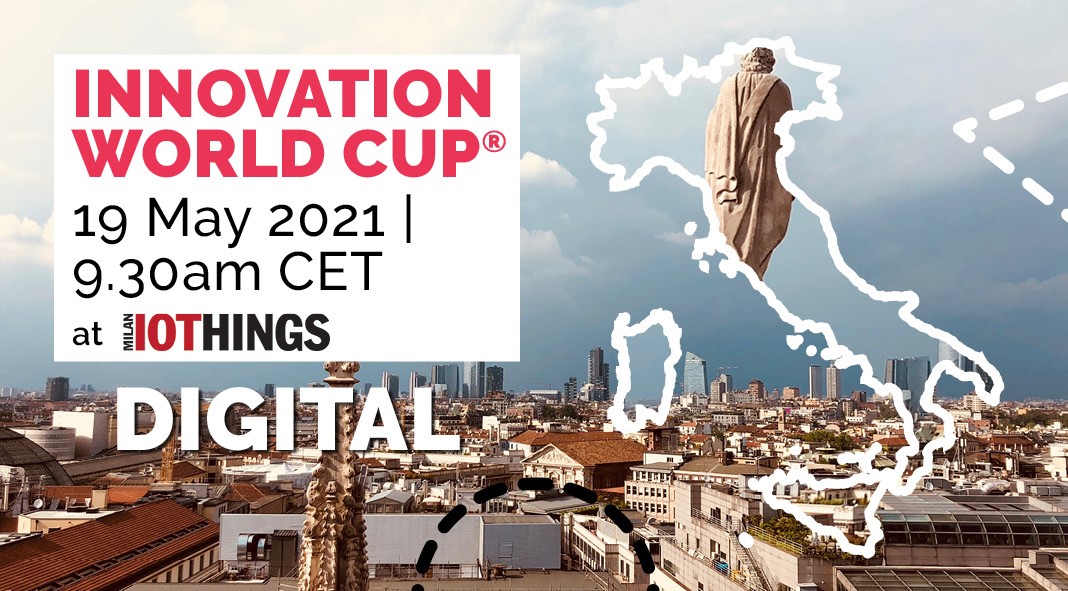 Innovation World Cup® Italy at IoTHINGS WEEK
The Innovation World Cup Series take part in the IoTHINGS WEEK 2021, the top tier  B2B congress and exhibition in the Internet of Things and blockchain. Meet our international leading tech corporates, get to know the future Italian IoT superstars, and check out their ground-breaking solutions that disrupt numerous industriest!
What: Innovation World Cup® Italy at IoTHINGS WEEK
When: 19 May, 2021
Time: 9:30 am – 11:00 am
Where: Online  
9:30 am | THE ITALIAN IOT INNOVATORS SHOWCASE BY INNOVATION WORLD CUP® SERIES AND IOTHINGS AWARDS
A roller-coaster year of challenges has not stopped Italian innovators. New cutting-edge IoT solutions are making their way to the national and international markets for a sustainable and viable impact. The IOTHINGS Award and Innovation World Cup® Series invite on stage ground-breaking Italian IoT companies and founders to present their solutions.
Abzero Life Saving Partners
Andrea Cannas, Founder & COO, ABzero
Fanny Boria, Technical Leader, Existo
Francesco Giartosio, CEO, GlassUp
Healthy Buildings: Clean Indoor Air
Marco Villa, CEO, Nuvap
Alessandro Settimi, CEO, Proxima Robotics
Signally.ai – Distributed AI learning platform
Daniele Delle Case, Founder & CEO, Signally
Ploovium – Adaptive Decision Support System
Cosmo Pepe, Founder & CMO, Soonapse
10:15 am | FROM THE LAB TO THE MARKET: FOUNDERS, CORPORATES AND INVESTORS TOGETHER FOR MEANINGFUL INNOVATION
Over the last twelve months, entrepreneurs have been challenged to invent, adapt, and overcome faster than ever before. At the same time, the closer collaboration between founders, corporates and investors has proven to be crucial to take innovative IoT products from labs out to the market effectively. Today, international investors and experienced representatives from leading tech corporates will share their hints on what makes these cooperation succeed, and what is needed to innovative start-ups, scale-ups and SMEs to join hands and grow their business.
Jonathan Clarke, Start-Up Program Leader – Southern Europe, OVHCloud
Thomas Waldmann, Start-Up & Venture Manager, Würth Elektronik
Adriano Basile, Technical Marketing Manager on Smart Things and Healthcare, STMicroelectronics
Markus Vogt, Director Segment Healthcare & Personal Devices, EBVElektronik
David Richardson, Distribution Manager Northern Europe and KAM, VARTA
Flavio Ghirardi, CEO, Neodelis srl
Moderated by Dr. Sonja Sulzmaier, Managing Partner, Innovation World Cup® Series – Navispace
Be prepared for your journey to the future, create network with international tech masterminds. Submit your solution to the 13th IoT/WT Innovation World Cup® and apply to for a pitching slot (free of charge) at the IoTHINGS 2021!
More info and free registration on www.iothingsweek.com