When your everyday life becomes stressful, a popular advice is to stop, breathe and relax. Easier said than done! What if we tell you that iBreve, our Healthcare WT Innovation World Cup® 2017/18 finalist, can help you to instantly calm down with clinically proven breathing exercises and also monitors your stress level? The founder Flavia Wahl shares her insights about their experience as a promising start-up in the world of IoT and Wearable tech.
1. HOW DID IT ALL START?
During a trip around the world, when visiting India, my co-founder and I were fascinated how people integrated breathing exercises in their everyday routine, for example during work breaks. Although multiple clinical studies show how beneficial diaphragmatic breathing is, we noticed that we miss this awareness in our Western countries. We wondered, how can we bring this back home? And thus the idea for iBreve was born!
We set out to create a solution that motivates people to use their breathing to reduce stress, feel better and would also help them to measure their progress. The brand iBreve is a word play around the word "I breathe" and 'Eve' – as we focus initially on women's health & well-being. From very early on, we focused on talking to potential customers, started building a network and developed the first proof of concept prototypes. That helped to catch the interest of some university professors, who supported us to bring the project to the next level. We are a company since September 2017.
2. WHAT ARE THE KEY MILESTONES YOU HAVE REACHED SO FAR?
We received funds from WearSustain, an EU-funded project aiming at shifting the wearable technology towards a more sustainable and ethical approach. It consists of a consortium of 7 organisations and universities across 5 EU countries. 
We designed a beautiful wearable that can be attached to the bra and tested it with numerous users to make it a truly human-centred and discreet stress management solution.For example, we monitor the breathing patterns of office workers and one fascinated finding was that we we able to correlate 'holding the breath' with certain tasks like opening the e-mail inbox. 
We currently work very hard on the 'treatment side', always with the goal in mind, what is the best way to help people in stress situations and in high pressure situations. As a result, we integrated breathing games, mindfulness exercises & customizable reminders in the iBreve app.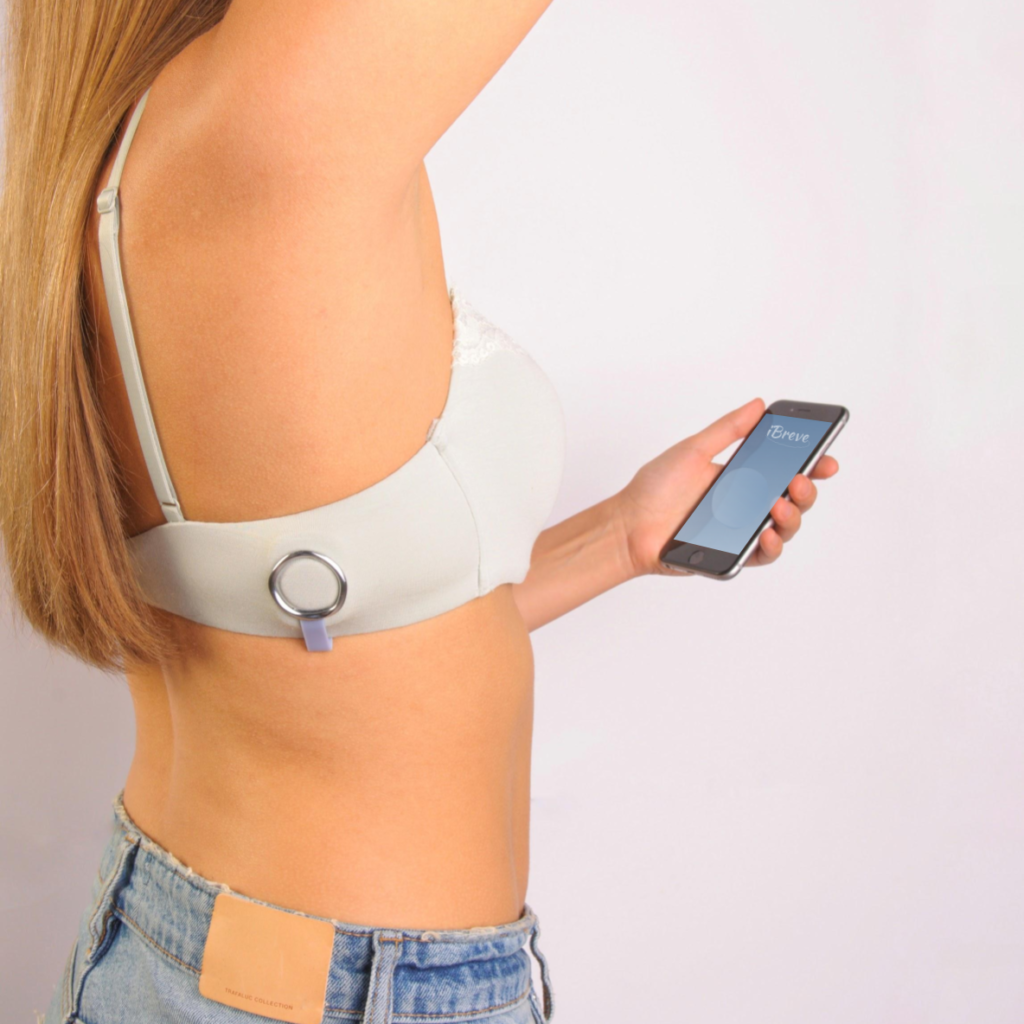 3. WHAT WERE THE BIGGEST CHALLENGES YOU FACED IN YOUR JOURNEY?
There are always ups and down, challenges from tiny rechargeable batteries to how small & seamless can we make it? We have good partners on board that collaborate with us! We have manufactured everything here in Europe. All the prototypes are from Spain and we will probably manufacture the final product in Germany. Getting the current prototypes ready for industrial production is our next big challenge.
4. WHAT'S COMING IN THE NEAR FUTURE?
Although we see very promising results of people using iBreve at work, we want to clinically quantify the extent in stress reduction. As part of the EIT Health program we are working on measuring the impact that iBreve has on the user's well-being & stress level. To accomplish our mission, we are currently looking for partner hospitals and patients willing to join us for a 2-month trial period.
Our long-term goal is to help people who suffer from anxiety or respiratory diseases. We want to make their daily breathing exercises more fun, motivate them to exercise and enable them to track their improvements. We will be therefore in Boston in October for an extended immersion program of the American healthcare system.
Last but not least, the team is also working on a men version of the device. The wearable will be attached around the waist line.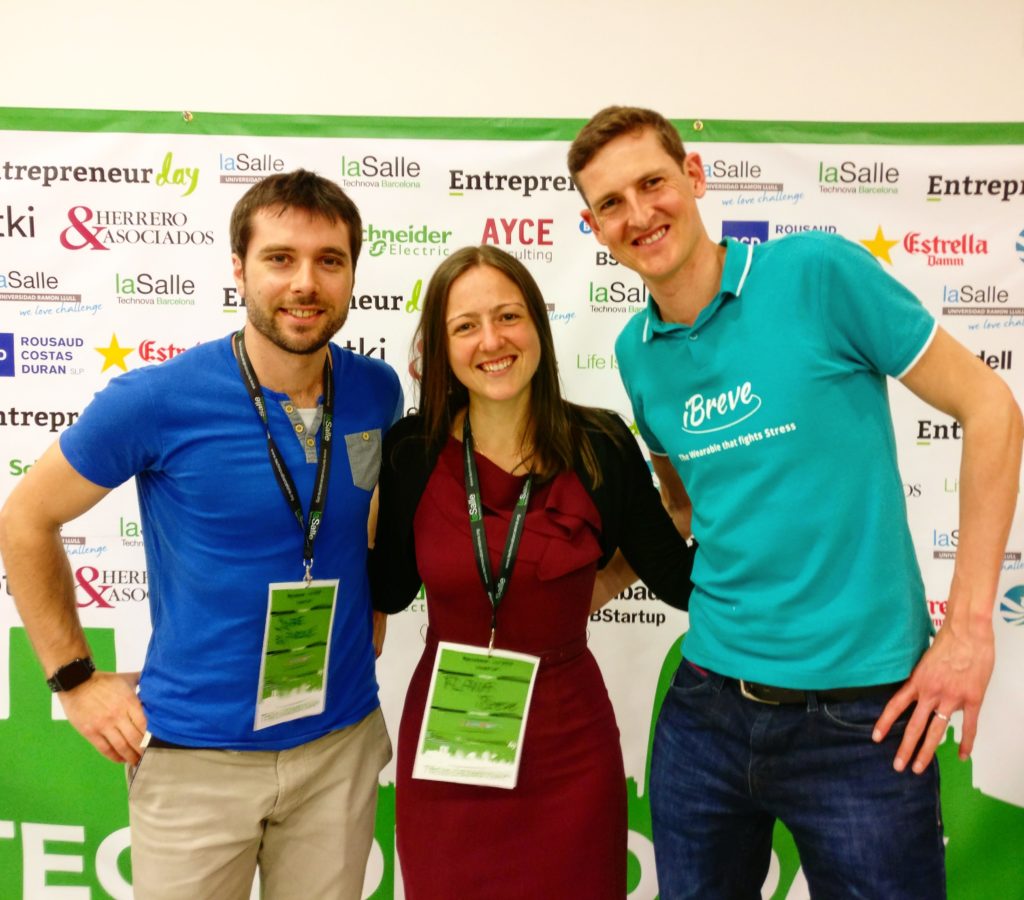 5. DESCRIBE YOUR EXPERIENCE IN THE IOT/WT INNOVATION WORLD CUP® JOURNEY
The network of the Innovation World Cup® Series is extremely valuable! We still get valuable connections & potential partners who are interested in working with iBreve through the Innovation World Cup® team.
During the Pitch and Award Ceremony at the WT | Wearable Technology Conference Europe 2018 in Munich, we met many interesting people. And also, the opportunity to be on stage in front of wearable experts was very useful for us.
We definitely recommend any innovative start-ups and scaleups to apply and run for the award. In fact, I have already personally invited some fellow entrepreneurs to join the competition!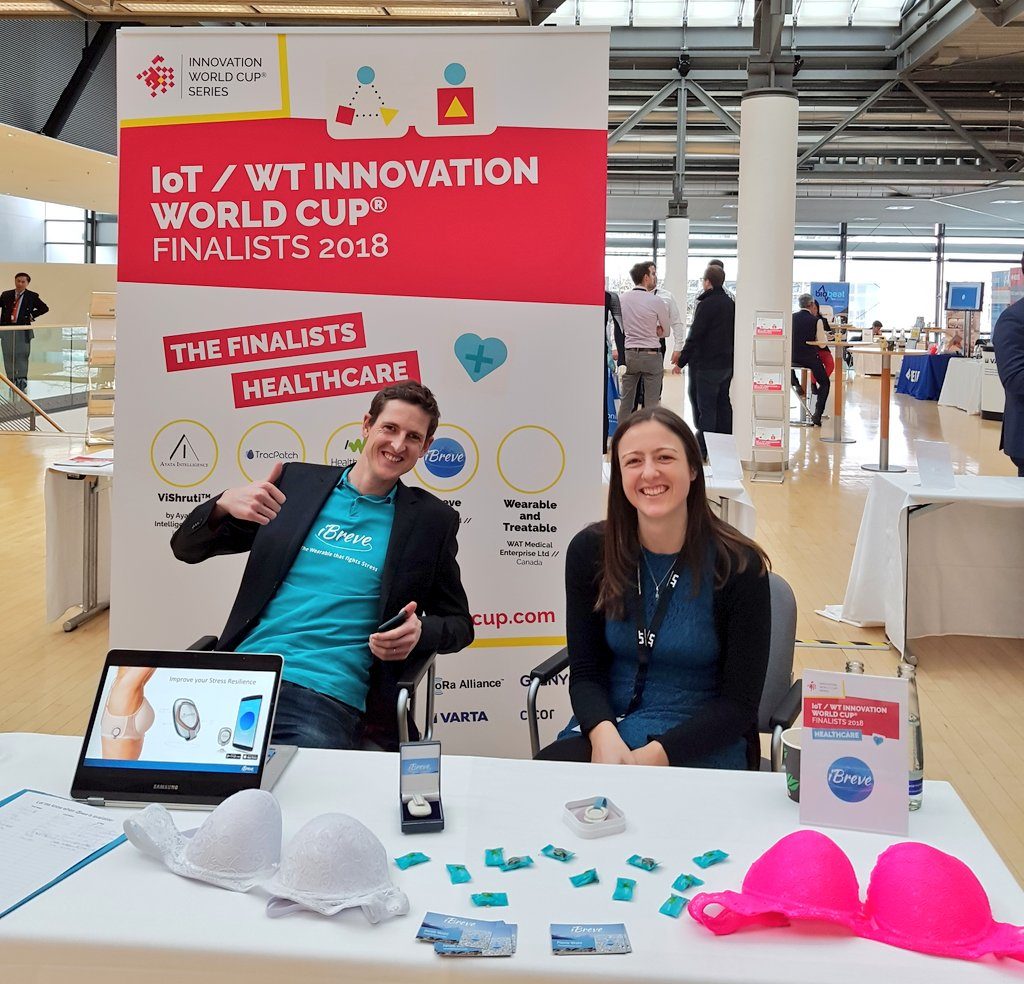 6. WHAT IS COOL ABOUT IOT?
IoT offers a lot of opportunities and has huge potential to help you being more aware of your surrounding and live healthier & better. I think, the future holds many promising solutions from making everyday items more intelligent to chairs that tell you "Hey you have been sitting for too long or in a wrong way". A function, by the way, you can unlock in the iBreve App as well!
7. YOUR THREE TIPS FOR UP-COMING IOT STARTUPS
Speak to as many people as possible. Find entrepreneurs that do something similar to what you have in mind, maybe in a different field. If their devices have similar capabilities to yours, ask them what their biggest challenges were, what they would recommend, etc. Focus on entrepreneurs that are a little bit ahead of you with their projects, as they might have already faced and solved some of the challenges that you are facing now. That is what we did at the beginning of iBreve. Our initial idea was to have the wearable integrated in the hooks of the bra, but speaking with a lot of women and potential users, we understood that a clipping device was a more suitable solution. Listening to people's feedback and comments always pays off!
Go and build your idea, even if people tell you that it's impossible. It still makes sense to build a proof of concept and test it. There are so many tools and development kits out there that can help you to easily build your first prototype to make people excited about it, show the potential of the solution, show your vision and attract people and prospects.
(Editor's note: By entering the IOTWTIWC you can benefit from the development kits offered by our partners for free!)
Think the business idea and the user journey through. Ask yourself: Who do I help? What is the problem I want to solve? What markets do I want to address?
And then inspire people to help you to make your vision become reality!
More information:
Learn more about iBreve here.
To follow iBreve's footsteps and become part of the Innovation World Cup ecosystem yourself register your innovation to the 10th IOT/WT Innovation World Cup® before October 2nd 2018! 
For more success stories like these, follow our blog!