This year again, we went to the heart of Smart City actors in France! Innovative City is the spot for finding the up-coming innovations that digitalize the future of sustainable cities, and for learning about rising trends. On top of it all, it takes place in the French Riviera (Nice), seriously, who would not want to join!
As we entered the venue, we arrived in a small-scale city where buildings surrounded us and roads guided from one room to another. Realistically demonstrating the actual environment that cities offer to its people. Most importantly, this gathering (June 27-28) brought together +3 000 relevant visitors dedicated to Smart City Innovation. As the smart city and building solutions are one of the main 8 categories of the IOT/WT Innovation World Cup®, we also contributed with our network and knowledge in making the event valuable for the visitors.
Start-ups were showcasing their new ideas that help cities to save costs, enable connectivity and safety, ease people's lives and beyond. Our smart city start-ups (winners and finalists of the past Innovation World Cups) together with new potentials, pitched their disruptive ideas on stage at our Smart City Start-up pitches session. The audience learned about prepaid running water available for everyone, smart waste & recycling management, water consumption systems and brand-new security solutions against jamming etc.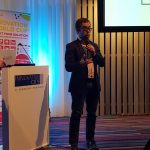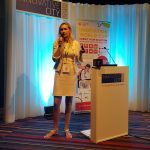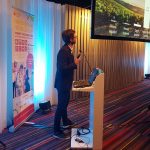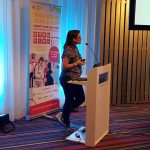 More details about the start-ups and their solutions can be found here:
After the pitches, the representatives from market leading corporates revealed their perspectives on Smart City Innovation. They were joined on stage by some of our start-ups for the Connecting Tech Corporates and Start-ups panel discussion. The panelists Grégoire Landel (CEO, CityTaps),  Franck Maul (Business Development Manager, Consumer and IoT, EBV Elektronik), Francis Lamotte (Founder & President, IoTize), Thomas de Pariente (Head of Strategy and Development, My Coach Sport & Representative French Tech Côte d'Azur) and Gerard Cronin (Head Marketing and Communication, STMicroelectronics) exchanged their views on corporate and startup collaboration, the importance of being part of a comprehensive ecosystem, golden rules for approaching big corporates, major pitfalls of start-up and how to overcome them in the smart city scene.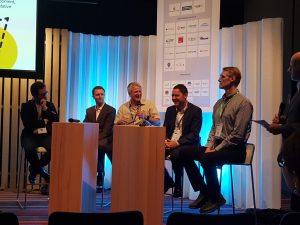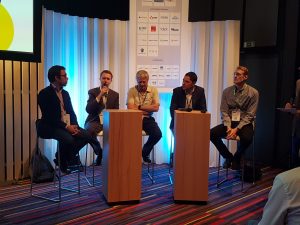 Convinced by the growing need for specialized tech solutions that develop and sustain future buildings and improve cities, we continue on the path of recognizing revolutionary Smart City solutions at the IOT/WT Innovation World Cup® and look forward to making these innovations visible!
If you are a smart city innovator ready to boost your development and connect to a global IoT ecosystem, register to the journey here. For upcoming events, keep an eye on our event page.
Thank you for all of our speakers, for their insightful presentations and point of views! Also, a big thank you to Innovative City for inviting us and our regional partners French Tech Cote d'Azur, and Team Cote d'Azur for supporting us with the organization of this great session. We look forward to Innovative City 2019!