Munich/Europe, 24 April 2023
Europe's Top12 wearables startups gathered at the 43rd WT | Wearable Technologies Conference EUROPE on April 24th, 2023, for the official WT Innovation World Cup® 2023 Pitch & Award ceremony.
Here are the TOP12 Wearable Techpreneurs 2023 who impressed the jury including senior representatives of Würth Elektronik, EBV Elektronik, HTGF, CSEM,  VARTA AG, and Luxottica:
The winners were selected based on their level of innovation, technology, market approach, and sustainability impact. We are delighted to announce that the following companies were recognized as the TOP3 Wearable Techpreneurs of 2023:
🥈 RoboMed
🥉 Noxon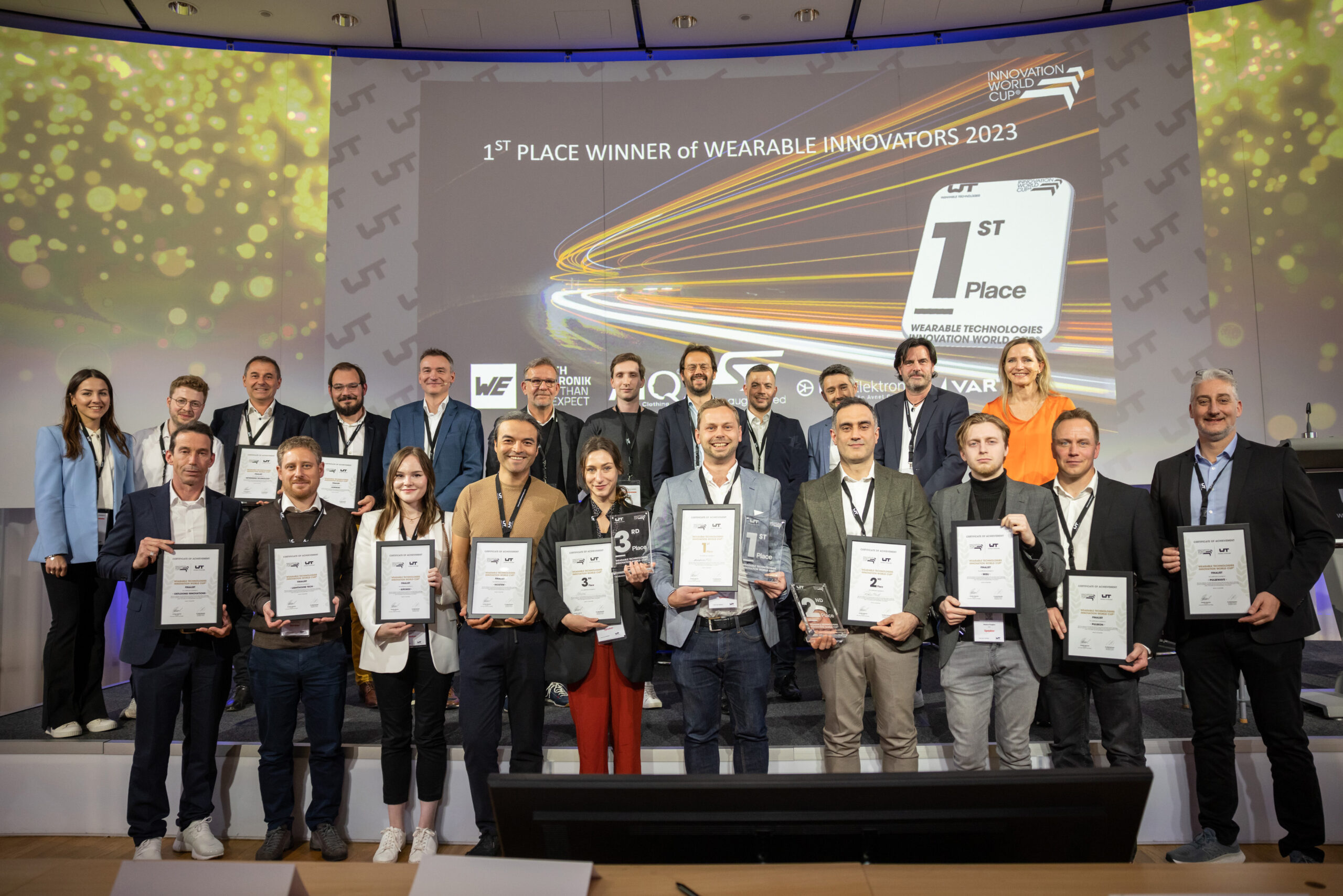 The TOP3 Wearable Techpreneurs 2023 will now officially be part of the prestigious Innovation World Cup® Hall of Fame and will be promoted by the Innovation World Cup®, WT | Wearable Technologies, along with the IWC Series community partners worldwide. What is more, they will receive significant support from global leading tech experts, potential investors and business partners to advance their innovative solutions in the market.
Congratulations to all the Top12 Wearables Techpreneurs 2023 and look forward to seeing the groundbreaking work that they will accomplish in the future. Interested startups can submit their solutions in the 15th Innovation World Cup® and 15th Healthcare Innovation World Cup® for free at www.innovationworldcup.com.
Behind the scenes – The Innovation World Cup® Series
The Innovation World Cup® Series is the world's leading open innovation platform that supports breakthrough innovations to become reality and connect techpreneurs with international tech corporations. The Innovation World Cup® Series was initiated by Navispace GmbH in 2003. Current and previous partners include STMicroelectronics, EBV Elektronik, Würth Elektronik, Microtronics, VOSS Automotive, AiQ Smart Clothing, VARTA Microbattery, Google, Intel, Swisscom, Ericsson, Telefonica, Gemalto, Samsung, and many more. Participation is free of charge.
Further partners include WT | Wearable Technologies, Hannover Messe, BIM World MUNICH, CSEM, AlpICT, BioAlps Association, ACCIO, Business OULU, G2 Startups, Gate Garching, Wolves Summit, Medical Valley, UnternehmerTUM, IoTWeek, i2cat / IOT Catalan Alliance, Innovative City, Innovability, CENSIS, MEDICA, Invest in Bavaria, MIT Enterprise Forum Poland, Technoport, THINGS Stockholm, Munich Startup, InfoShare, IFJ, ITRI, INN.KUBATOR, TechBBQ, SUCCUS, Hong Kong Science and Technology Park, VJTI- Technology Business Incubator, Upgraded Life, and many more.
Press Contact
Mirna Curcic | Project & Event Manager
m.curcic@navispace.de