Among the leading wearable innovators coming to the 11th IoT/WT Innovation World Cup® session in the 34th Edition of the WT | Wearable Technologies Conference, Zeto Inc. stood out to be the best! Inspired by a family story, Zeto researched and developed the FIRST true dry EEG headset cleared by the FDA for clinical use and primed to disrupt the $10B+ medical EEG market. Let's have a chat with Aswin Gunasekar, the founder & CEO of the excellent Medtech startup and find out his way to extend the product for home use, and help patients worldwide self-manage their neurological conditions more efficiently.
1. HOW DID IT ALL START? 
Zeto is a Greek word, a verb that means "to live". It started as a new venture idea back when I was doing my MBA at the University of Texas at Austin. I was inspired by a family member who has epilepsy. As my team and I learned more about the condition, we realized EEG or Electroencephalography was the gold standard of diagnosis. Yet, this important diagnosis technique was stuck in old ways. The problem fit perfectly with my electrical engineering background and about 6 years later we are here. 
2. WHAT ARE THE KEY MILESTONES YOU HAVE REACHED SO FAR?

The FIRST and ONLY product of its kind (a true dry electrode wearable EEG headset) cleared by the FDA for clinical use.
Commercial Launch in July 2019. Positive reviews and strong customer demand from customers.
20-member team with sound product, operational and commercial expertise.
8 top-tier awards, such as MEDY Outstanding Pitch Company at the Exponential Medicine 2018, MedTech Innovator Showcase Company in 2018, UCSF Rosenman Innovator in 2017, $350,000 in awards and investments from the Epilepsy Foundation in 2016-2017.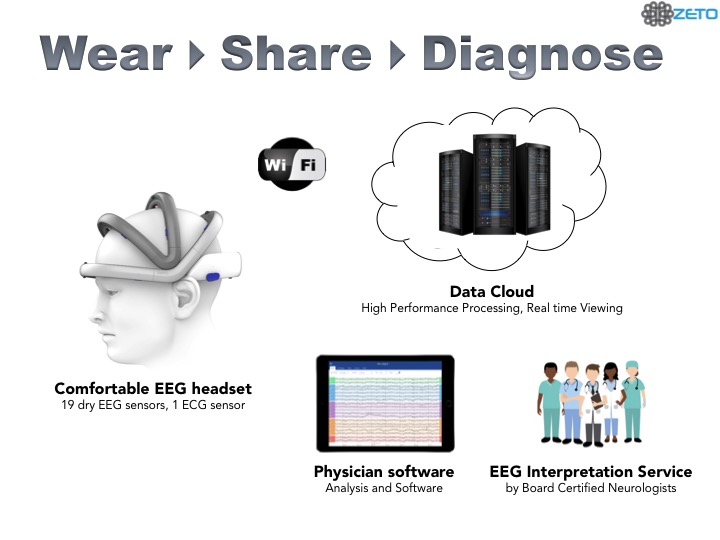 3. TELL US SOME OF THE BIGGEST CHALLENGES YOU HAD TO OVERCOME!
Dig deep to really understand the problem and how you can serve the customer's needs. Once you've figured that out (not that easy, takes a lot of time, thinking and effort), the only two true limiting factors are your psychology and the laws of science. The only goal is to serve the customer significantly better and in an endurable way. Work towards that. All else is noise. People are your true assets, not how much money you've raised. Never compromise on fit for culture/values. FDA clearance was our biggest challenge.
4. HOW DOES THE FUTURE LOOK LIKE?

The future is really bright for Zeto. We have some great solutions down the pipeline that our customers will absolutely love.
We are here to stay and conquer.
5. HOW WAS YOUR EXPERIENCE IN THE 34th EDITION OF THE WT | WEARABLE TECHNOLOGIES CONFERENCE WITH THE INNOVATION WORLD CUP®?
Their reach to a diverse and informed audience.
6. COULD YOU SHARE ANY ADVICE FOR THE FUTURE TECHPRENEURS COMING TO THE INNOVATION WORLD CUP®?
You cannot possibly say everything about your company in a 3-min pitch. Just keep the customer, problem, how you solve it and customer response front and center of your pitch. Be authentic and connect with the audience.
Visit Zeto Inc. homepage and see how they advance the EEG market with an easy-to-use, comfortable-to-wear and smart headset.
Wear, Share, Diagnose – All at its best! 
The Innovation World Cup® is an important stepping stone for numerous tech startups worldwide. Just two weeks left until the free of charge submission deadline on September 18th, 2019 comes. Hesitate no more – Join the 11th IoT/WT Innovation World Cup® now and compete for prizes worth 500.000 USD, a cash prize of 10.000 EUR (for European best IoT solution) and chances to extend your business network with leading tech-heads, potential investors and partners. The following special prizes are finding their right owners:
And if you want to develop your IoT solution further? Request the Development Kits for free powered by the Innovation World Cup Series' official corporate partners STMicroelectronics, EBV Elektronik, Würth Elektronik, and Microtronics.

Take a look at the Hall Of Fame and get to know some the brightest, most successful members of the world's leading open innovation platform. You may be the next one!