Brighton UK, September 2023
Global leader in innovative motion capture technology AiQ Synertial is delighted to announce the launch of its highly-anticipated G6 product range
This is a groundbreaking line of full-body motion capture suits and gloves that represents a significant leap forward in the field of inertial motion capture. Testament to AiQ Synertial's commitment to delivering technologically advanced yet functional products with real-life application, the G6 pushes the boundaries of what's possible in the mocap sector, cementing the company's reputation for digital evolution.
What does this mean? Simply, the G6 range showcases the highest sensor specification in the industry. Featuring patent-pending 15-axis IMUs capable of measuring an impressive 4000 degrees of rotation per second, the products deliver a level of precision that allows accurate, reliable capture of even the most subtle movements. The sophistication and nuance capabilities have multiple potential implementations, including detailed biomechanical analysis and lifelike animations.
With a legacy built on the back of the practical deployment of its products in real-world scenarios, AiQ Synertial understands the importance of flexibility. The G6 range is therefore compatible with all leading animation, biomechanics and Siemens PLM (Product Lifecycle Management) software. This congruity allows the harnessing of motion capture data's full potential, as well as streamlining workflow.
The G6 range uses a second skin suit made from Taiwan-based textile experts AiQ Clothing's smart Clothing inc. (own by TexRay industrial co. ltd, a public listed company in Taiwan who has 45 years of experience in functional fabric and garment manufacturing). Users are guaranteed a high level of hygiene through its IPX5 hand-washable capabilities, thus ensuring that functionality is married with comfort.
Mr. Ali Kord, the company's CTO, expressed his excitement about the G6 range, saying, "We're thrilled to introduce the G6 Inertial Motion Capture Suit and Gloves to the world. This product range represents the culmination of years of research and development. In collaborating with AiQ Smart Clothing – and their partners across Europe and Asia – Synertial Technologies has co-produced in G6 a shining example of how international technological partnerships can flourish in, and benefit, our interconnected world. We're confident it sets a new industry benchmark for precision and versatility, opening up endless possibilities for creatives, researchers and industry professionals."
As a dynamic partnership between Taiwan- and UK-based companies, AiQ Synertial exemplifies global technological alliances in the contemporary world. The G6 range is set to revolutionise motion capture with its unparalleled accuracy and flexibility. Whether it's creating lifelike animations, advancing sports sciences or optimising Industry 4.0 processes, the G6 Inertial Motion Capture Suit and Gloves are poised to be the go-to solution across multiple industries.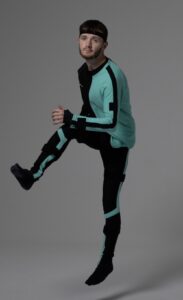 For more information about the AiQ Synertial G6 range and to explore its applications, please visit www.synertial.com. The company will showcase the G6 and its capabilities at booth 427 at ITSEC in Orlando from 27th November to 1st December 2023.
---
Discover an exceptional opportunity: The Smart Clothing Challenge – an exclusive award within the Innovation World Cup®, powered by AiQ Smart Clothing. For more details and to submit your solution for free, check: Smart Clothing Challenge powered by AiQ Smart Clothing – Innovation World Cup Series.
Press contact:
Mirna Curcic | Project and Event Manager
Innovation World Cup® Series – Navispace GmbH