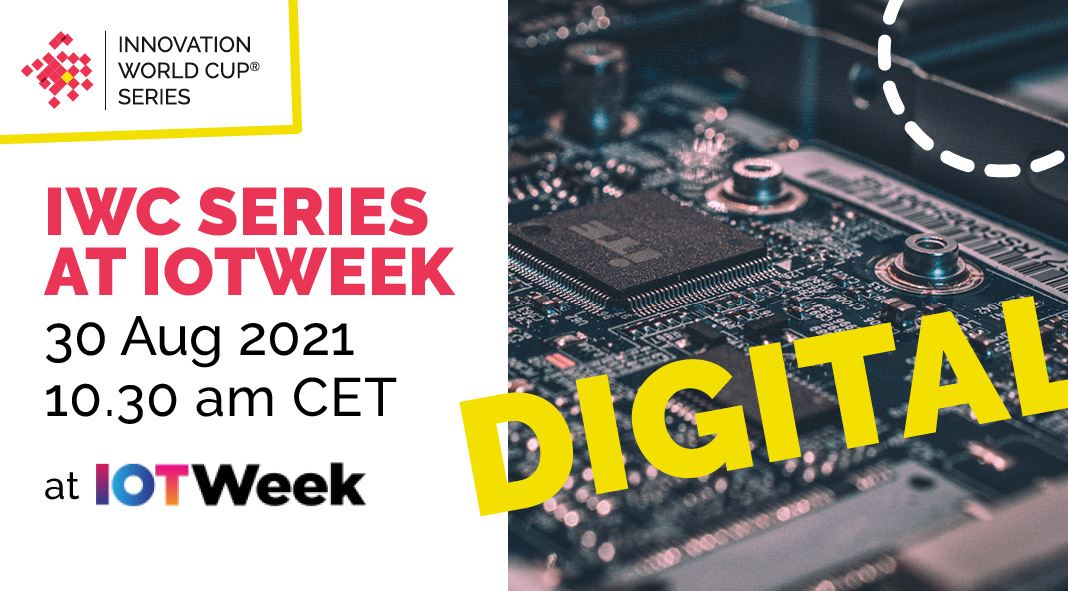 Innovation World Cup® at IOT WEEK 2021
The Innovation World Cup® Series welcome tech-savvy audiences at IoT Week 2021 Digital Edition. Powered by IoT Forum since 2011, IOT WEEK is a five-day conference where leaders from the worlds of business, tech and science shed light on the future of technology and its impact on business and life.
Be with us and our tech experts at IoT Week 2021 Grasp the emerging challenges, as well as the Dos & Don´ts in the DeepTech industry. Whether you are a CEO, a business leader, or a techpreneur. Let's take the leap forward together!
What, Who and When:
30 August 2021, 10:30 am CET, online
Panel Discussion|Survival to Breakthrough: How do IoT & DeepTech Startups Become Unicorns?
Ground-breaking innovators, corporate tech experts and investors with vast experience in scaling tech start-ups in the Industry 4.0, Agriculture, Transport & Logistics, Smart City, Smart Construction, Smart Home, and eHealth industries will share their insights on the dos and don´ts and learnings when scaling up an IoT start-up. In the panel the IoT Innovation World Cup® Startup Pitch Competition will be kicked off. The top finalists will then rock the stage at IOT WEEK Dublin 2022.
Book your virtual seat now FOR FREE here!
If you want to be among the lucky ones rocking the stage at IOT WEEK Dublin 2022, submit your solution free of charge to the 13th Healthcare Innovation World Cup® or 13th IOT Innovation World Cup®
Take your own chance to win prizes worth +500.000 USD!